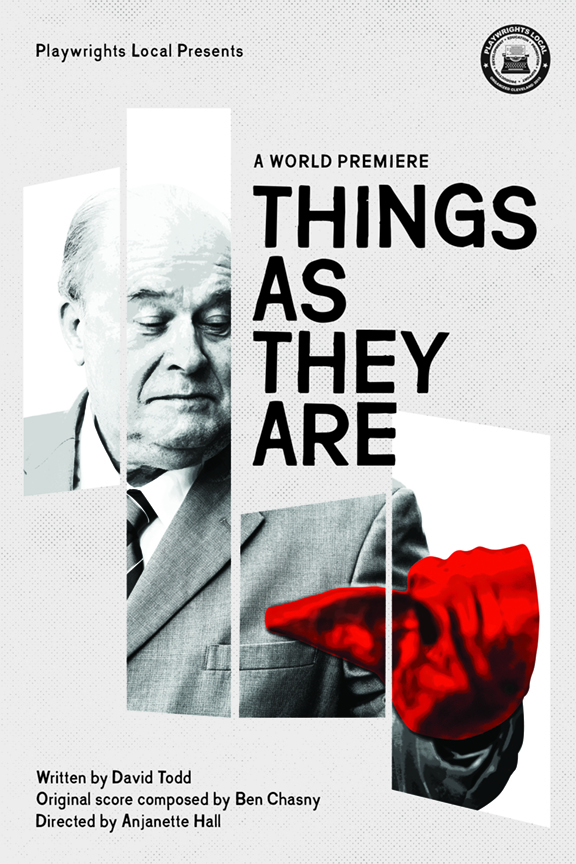 THINGS AS THEY ARE
Written by David Todd
Original score composed by Ben Chasny
Directed by Anjanette Hall
May 12 – 28, 2017
Friday – Saturday at 7:30 pm and Sunday at 2:30 pm
Industry Night: Monday, May 15 at 7:30 pm
Special Venue:
Reinberger Auditorium (Upstairs Loft)
5209 Detroit Avenue
Cleveland, OH 44102
Things as They Are is a dramatic exploration of American poet Wallace Stevens (1879-1955), a stoic visionary whose titanic imagination and confounding duality have lent him an unwavering mystique. This all-new multimedia work combines a script by David Todd, an original score performed by Ben Chasny, and licensed works by Stevens himself with movement, commedia dell'arte, and projections. Fusing these elements, Things as They Are looks past the stock image of its subject as an aloof executive with avant-garde leanings. From run-ins with Marcel Duchamp to Ernest Hemingway, and from crises with wife Elsie to daughter Holly, the play reveals the "real" Wallace Stevens to be a man of great insight, contradictions, whimsy, and desire.
Run Time: Approximately 2:30, with one fifteen-minute intermission.
---
Livestream
HowlRound Theatre Commons | Friday, May 26, 2017
---
Awards & Recognition
Best Projection Design / Script by a Local Writer (Superior Achievement)
Cleveland Critics Circle, 18 December 2017
Best Portrayal of Real-Life Geniuses / Best Risks
Scene Magazine, 27 December 2017
Outstanding Projection Design
Broadway World-Cleveland, 24 December 2017
---
Press
"There's a play going on now that you should pay attention to…This risk-taking production is worth a look."
Scene Magazine, 17 May 2017
"Things as They Are brings some wonderful things…This staged biography sears the audience with the problems in Stevens' life."
Talkin' Broadway, May 2017
"[Ben Chasny's] most recent project is an interesting one…performing live music for a new work by playwright David Todd."
Dangerous Minds, May 2017
---
Cast
Robert Hawkes……….Mature Wallace Stevens
Jason Markouc……….Young Wallace Stevens
Laura Starnik……….Elsie Stevens
Tessa Hager……….Holly Stevens
Robert Branch……….Garrett Stevens, W. C. Williams, and Ensemble
Kenzie Critzer……….Sybil Gage, Marianne Moore, and Ensemble
Jeanne Task……….Kate Stevens, Mrs. Baldwin, and Ensemble
Marco Liguori……….Robert Frost, Walter Arensburg, and Ensemble
Liam Stilson……….Crispin, Ed Livingood, and Ernest Hemingway
---
Musicians
Ben Chasny……….Guitar
John Elliott……….Synthesizer/Electronics
---
Creative Team
Inda Blatch-Geib……….Costume Designer
Nora Jeanne DeMilta……….Assistant Director & Marketing Coordinator
Cleo DeOrio……….Commedia dell'arte Choreographer
Tom Hayes……….Carpenter
Michael Hinton……….Dance/Movement Choreographer
Emily Kovalcik……….Prop Designer
T. Paul Lowry……….Set & Projection Designer
Jonathan Maag……….Lighting Designer
Francesca Mamlin……….Stage Manager
Elizabeth Tofig……….Dramaturg
Kelly Tomko……….Production Manager
Dusten Welch……….Fight Choreographer
---
Photos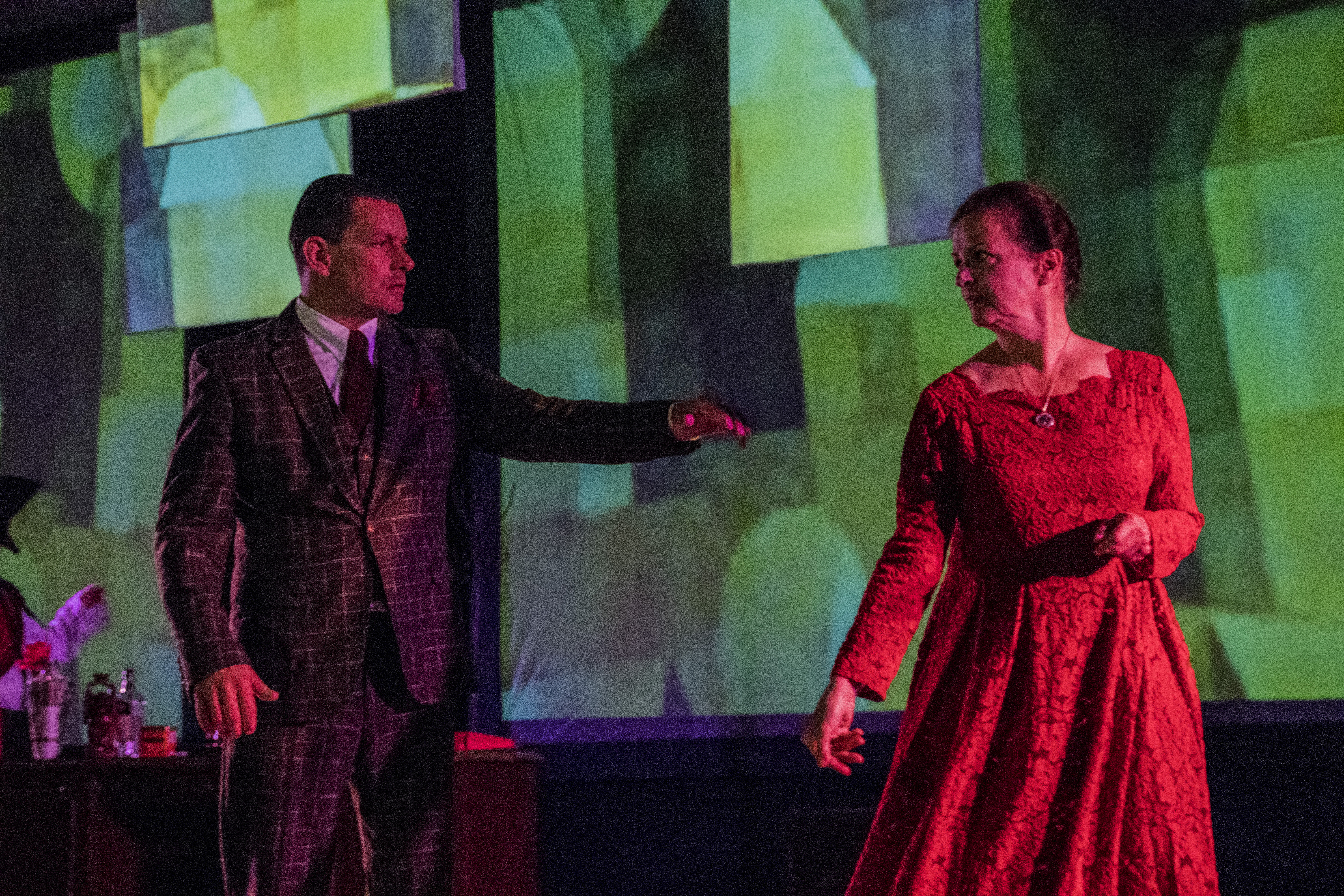 Credit: Steve Wagner Photography. Click for complete gallery.
---
Program