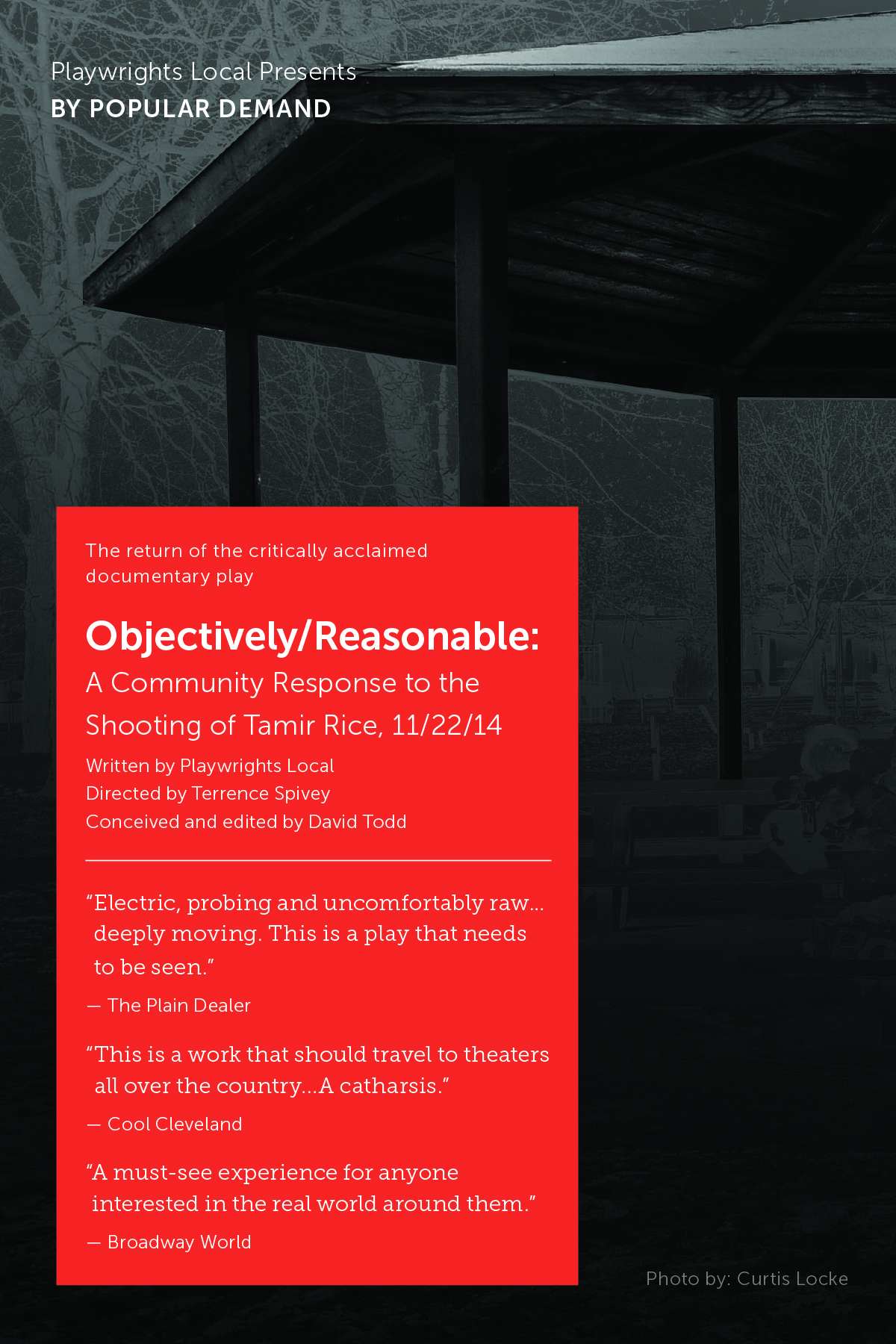 OBJECTIVELY/REASONABLE:
A Community Response to the Shooting of Tamir Rice, 11/22/14
By Playwrights Local
Conceived and edited by David Todd
Directed by Terrence Spivey
Returning by Popular Demand
The "Most Socially Significant Local Play" of 2016
— The Cleveland Critics Circle
February 17 – March 11, 2017
Thursday-Saturday at 7:30 pm & Sunday at 2:30 pm
Playwrights Local proudly announces the return of Objectively/Reasonable, the critically acclaimed documentary play that premiered to sold-out houses in August 2016. Presented as a community response to the 2014 shooting of Tamir Rice, this powerful new work is based on original interviews with legal experts, social critics, police officers, parents, and other Greater Clevelanders. Featuring contributions from an ensemble of writers—Mike Geither, Tom Hayes, Lisa Langford, Michael Oatman, and David Todd—the play considers the impact and aftermath of this tragedy as captured through a diverse set of unheard voices. Objectively/Reasonable was conceived and edited by David Todd and is directed by Terrence Spivey, former artistic director of Karamu House.
Run Time: Approximately 90 minutes, without intermission.
---
Conceiver/Editor
David Todd
Contributing Playwrights
Mike Geither
Tom Hayes
Lisa Langford
Michael Oatman
David Todd
Director
Terrence Spivey
---
Special Post-Show Discussions
February 17: Hosted by Mansfield Frazier
February 19: Hosted by Ayesha Bell Hardaway
February 26: Hosted by Daniel Gray-Kontar
March 5: Hosted by Kwanza Brewer
March 10: Hosted by A. Harris Brown
---
Press for Return Engagement
"This is a well-deserved 'revival', since it is a powerful and resonant piece of theater…See it. Absorb it. Be changed by it."
Scene Magazine, 20 February 2017
"The powerful [original] performances were virtually sold out, so the company is re-staging it. If you did not see it the first time, you need to see it now."
Cool Cleveland (Anastasia Pantsios), February 2017
"This work is raw; it serves it up straight, no chaser; it takes no prisoners; minces no words; spares no feelings…Everyone who missed this play the first time around should make a real effort to get off their lazy asses and go see it this time."
Cool Cleveland (Mansfield Frazier), February 2017
Press for Premiere Production
Archive at Premiere Production Page
---
Cast
Samone Cummings
Kali Hatten
Christina Johnson
LaShawn Little
Joshua McElroy
Mary-Francis Renee Miller
Phillia
Corin B. Self
Nathan Tolliver
---
Creative Team
Ludie Cummings……….Board Operator
Geraldine Harris……….Stage Manager
Tom Hayes……….Carpenter
Cory Molner……….Electrician
Margaret Peebles……….Lighting Designer
Terrence Spivey……….Set Designer
David Todd……..Sound Designer
Nathan Tolliver……….Assistant Director
---
Photos
Credit: Tom Kondilas. Click for complete gallery.
---
Program