THE PORTRAITS
A Radio Play by Tom Hayes
Directed by Brian Zoldessy
Free Streaming & Download
After attending the funeral of their father, two adult siblings are stranded in a remote area next to their family plot. With a storm threatening and strange sounds coming from the nearby forest, 40-ish Ben and his younger sister Sam are forced to leave the plot on foot. As they walk, the two re-hash events of the past. They both air their grievances until the strange sounds begin to take physical form, forcing them into an abandoned house. Strangely, the house is not entirely empty and not entirely unfamiliar. There, they discover a truth they did not know, and come to terms with their shared history.
Run Time: 23:30
Music: "Aftermath" by Kevin MacLeod
Recording (c) 2021 Playwrights Local
The Portraits (c) 2021 Tom Hayes
Produced with Radio on the Lake Theatre
---
Playwright
Tom Hayes is a playwright living in Cleveland Heights. His playwriting credits include The Appalachian Trail staged in Cleveland State University's annual play festival at the Factory Theatre in 2004; Only Sing for Me, which appeared in the CSU play festival in 2005; and co-writing credits on Lost Prospect (a moving play through downtown Cleveland) at the Ingenuity Festival of Art and Technology in 2006. Tom's play A Howl in the Woods was one winning entry in Cleveland Public Theatre's Little Box competition in 2007; and Tom had co-writing credits on Know Your Future at the 2008 Ingenuity Festival of Art and Technology. Tom also had the winning entry (A Howl in the Woods) in the 2008 New Plays Competition at convergence-continuum—now renamed Lord of the Burgeoning Lumber—the play was awarded Best Original Script by a Local Playwright — 2008 by Rave and Pan. Tom's play Patterns received a workshop production at CPT in March of 2011. In 2016, Tom was a writer on the critically acclaimed Playwrights Local production of Objectively/Reasonable, a play which the Cleveland Critics Circle named the Most Socially Significant Play of 2016. In 2018, as a part of Playwright Local's Play Lab, Tom's play Concussive Blast received a staged reading at None Too Fragile Theater in Akron. Concussive Blast garnered Tom one of the FY2020 Individual Excellence Awards given by the Ohio Arts Council. Tom's play Millwood Outpost is scheduled for production in April 2022.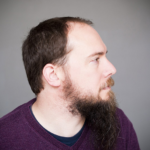 ---
Director
Brian Zoldessy, Ph.D., is Professor Emeritus at Cuyahoga Community College, where he was Director of the Theatre Arts Department from 1991-2019. In 1995, Brian was the first non-tenured faculty member to receive CCC's prestigious Ralph M. Besse Award for Teaching Excellence and was honored with the Outstanding Achievement Award for Teaching by the International Conference for Teaching and Leadership. As a professional actor, Brian has worked in New York, L.A., Chicago, and Cleveland, and has appeared on Broadway, Off-Broadway, and in television and films, having appeared with Kevin Bacon, Matthew Broderick, Fisher Stevens, John Travolta, and the late, great, Jack Gilford. A winner of The Kennedy Center's Irene Ryan Acting and Directing Awards, he has directed and produced over 100 award-winning productions. Additionally, Brian performed stand-up comedy at many of New York's famous comedy clubs including The Improvisation and Dangerfield's. Other honors include 15 Times Newspaper Theatre Tribute Awards for directing and performing, as well as Best Actor of the Year by the Ohio Newspapers Association. Brian is also a published poet and is the author of The Theatre Appreciation Workbook: Exercises and Activities. He is also one of the original stage directors for the Cleveland Shakespeare Festival, and in 2012 was awarded Best Performance by an Actor by the Cleveland Critics Circle Awards for his turn as Ned Weeks in The Normal Heart (Ensemble Theatre). Currently, Brian's most important roles are father and grandfather.
---
Cast
John Busser (Ben) is an actor/writer/graphic artist in the Cleveland area. He is the co-runner of Cleveland Public Theatre's writer's workshop, The Dark Room. In 2017, Blank Canvas Theatre presented Children's Letters to Satan (and Other Horrible Scribblings), a collection of 7 of his original plays. His play Under A Watchful Eye was made into a short film that has been selected for the 2019 Greater Cleveland Urban Film Festival and the 2020 Cleveland International Film Festival. Various other of his 70+ short plays have been performed in multiple venues in the Cleveland and Columbus areas. A number of his works can be found on New Play Exchange at https://newplayexchange.org/users/34757/john-busser
Lindsey Mitchell (Sam) loves lending her voice, and bringing to life, the beautifully written characters in Playwrights Local's radio plays. She's enjoyed performing in several of Faye Sholiton's Interplay productions at Dobama Theatre and Maltz Museum. At Beck Center, Lindsey played Judy/Ginger in Ruthless!, as well as Elizabeth in Young Frankenstein. At Actors Summit in Akron, Lindsey originated the role of Claire in My Mother's Lesbian, Jewish, Wiccan Wedding where she was recognized with a Times Tribute nomination for Best Actress in a Musical. A singer of the Great American Songbook, Broadway standards, contemporary pop, & jazz, Lindsey has been a featured soloist with The Cleveland Pops, The Musical Theatre Project, as well as various performances at Nighttown. Lindsey has also performed as a soloist in New York at Lincoln Center. Most recently, Lindsey is taking her lifelong passion for cooking to the professional arena. Working at Doug Katz's innovative restaurant Zhug, & creating cooking videos on her LindseyLicious YouTube channel.
---
Sound Effects Engineer
John Watts
---
Co-Producer
Radio on the Lake Theatre is dedicated to the preservation, creative development and educational outreach of the radio theater genre. Through performances of classic scripts, new play development, educational initiatives and outreach to visually impaired children and adults, Radio on the Lake Theatre seeks to become a guiding light for radio drama in the Northeast Ohio region and beyond.