ENTANGLEMENT
A Historical Fantasy of Almost- Love and Almost-Loss, Art History and Entry-Level Quantum Physics
A Radio Play by Les Hunter
Directed by Christine McBurney
Free Streaming & Download
Run Time: 26 minutes
Recorded live on November 13, 2019
Recording (c) 2020 Playwrights Local
Produced with Radio on the Lake Theatre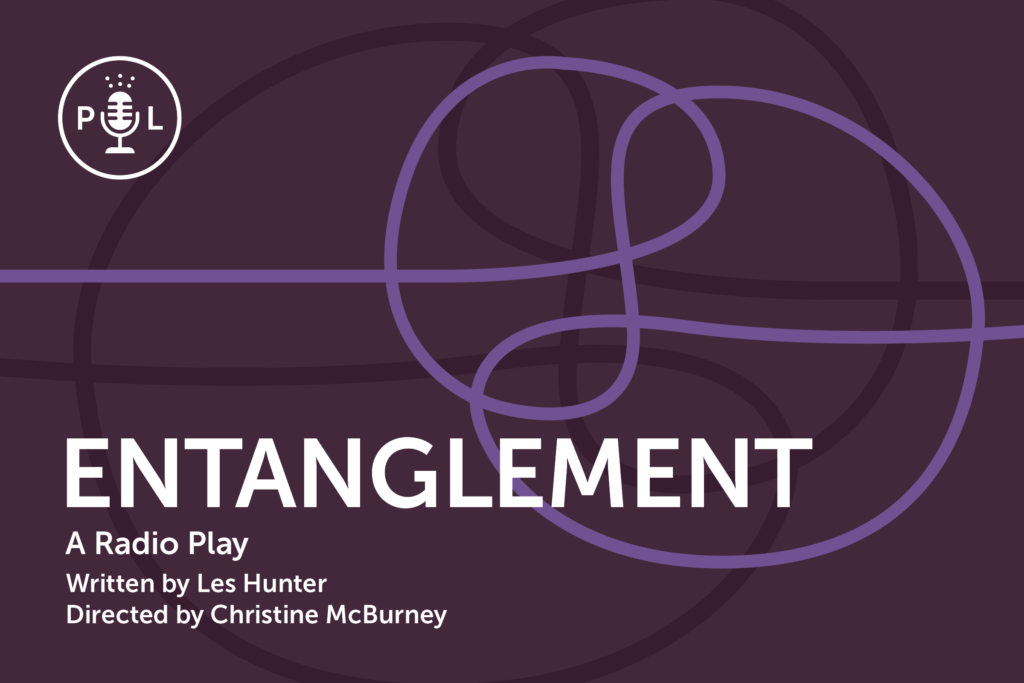 ---
Playwright
Les Hunter: Les' recent plays include To the Orchard (Playwrights Local and JPP 2016 International Jewish Playwriting Contest Top 10 Finalist); Down by Contact (Dobama Theatre and Playwrights Local); Weimar (Baldwin Wallace University); and with his wife Elana, Aponibolinayen Visits the Sky (Talespinner Children's Theatre). He also wrote for all three parts of the collaboratively written NYC hit, The Jackson Heights Trilogy (Theatre 167). Playscripts, Brooklyn Publishers, and Indie Theatre publish and license his plays. He is the Ohio Regional Representative for the Dramatists Guild of America and the 2019/2020 Cleveland Public Theatre Premiere Fellow for playwriting.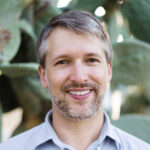 Playwright's Note:
This play was originally written for a science playwriting competition and its first performance was in front of a room full of physicists. The premise of the play is that Aby Warburg and Gertrud Bing's 1921 art history theory (that all societies develop at a relatively similar and interconnected rate despite their differences across both time and space) is spookily similar to the phenomena of quantum entanglement. Entanglement, developed out of ideas from physicist Erwin Schrödinger in the 1920s, is the theory that two particles, once entangled, move and change at the same moment despite distances placed upon them across space and time. Schrödinger famously came up with his most important ideas during a two-and-a-half week sexual spree in the Swiss Alps with an unknown woman who was not his wife. In my theoretical retelling, it is Bing in the Alps who influences Schrödinger's discoveries.
Under the careful guidance of Radio on the Lake Theatre's John Watts and Caroline Breder-Watts, and director Christine McBurney, adapting this stage play to the genre of radio has turned challenges into artistic opportunities. The play has three separate settings and it moves somewhat freely between them, additionally, the play ends with a stage image. These challenges prompted our team to create innovative sound motifs, aural cues, vocal effects, and the addition of new dialogue, to help better establish place and create mental images. These reconsiderations have allowed us to deepen the play's themes that ultimately are not just about art and science, but about the connections that we make with one another, and how those connections stay with us, no matter what.
— Les Hunter
---
Director
Christine McBurney is an award-winning theatre artist, educator, and writer. Member of SDCF 2019-20 Observership Class, Lincoln Center Theater Directors Lab, Directors Lab West & Directors Lab North. Co-Artistic Director, Mamaí Theatre (2010-2017). Grants: National Endowment for the Humanities, The Globe Theatre in London, Shakespeare & Company, and The Juilliard School. BA, Columbia. MFA, Kent State. Lecturer at Baldwin Wallace Theatre & Dance. SDC Member. www.christinemcburney.com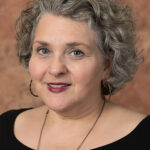 Director's Note:
I don't pretend to fully understand quantum physics. Just when I think I have a handle on a cogent definition, it eludes me. The older I get, the more I wish I'd paid attention in science class. You don't have to worry; you don't need a primer on quantum entanglement to enjoy tonight's play. With imagination, humor, and heart, Entanglement poignantly reminds of our deepest longings and yearnings to reconnect with the past, asking us, do the people we meet over the course of a lifetime ever really leave us? How are we changed after having spent time with them? Can we as Erik and Gabriele offer, "reach across time and grab the past like it were today?"
I'd like to express my gratitude to Les, Cathleen, and John, a trio of Cleveland's most gifted and giving theatre makers, and to new collaborators, David and Tom at Playwrights Local, and John and Caroline at Radio on the Lake.
We're always a part of where we've been. And with whom we've been. And now, tonight, we are all entangled…
— Christine McBurney
---
Cast
John Busser (Erik) is an actor/writer in the Cleveland area who is a regular cast member of Flanagan's Wake, beginning its eleventh season in January 2020. He is the co-runner of Cleveland Public Theatre's writers workshop, The Dark Room, which helps new and seasoned playwrights test drive new work.
Cathleen O'Malley (Gabriele) is an actor, writer, director, and producer. She is a graduate of the London International School of Performing Arts (LISPA) and has traveled the world creating and performing original work. Recently, Cathleen premiered her solo play Milkdrunk at the 10th Annual United Solo Festival at NYC's Theatre Row. www.cathleenomalley.com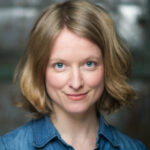 ---
Sound Effects Engineers
John Watts
Victoria Watts
---
Co-Producer
Radio on the Lake Theatre is dedicated to the preservation, creative development and educational outreach of the radio theater genre. Through performances of classic scripts, new play development, educational initiatives and outreach to visually impaired children and adults, Radio on the Lake Theatre seeks to become a guiding light for radio drama in the Northeast Ohio region and beyond.
---
Photos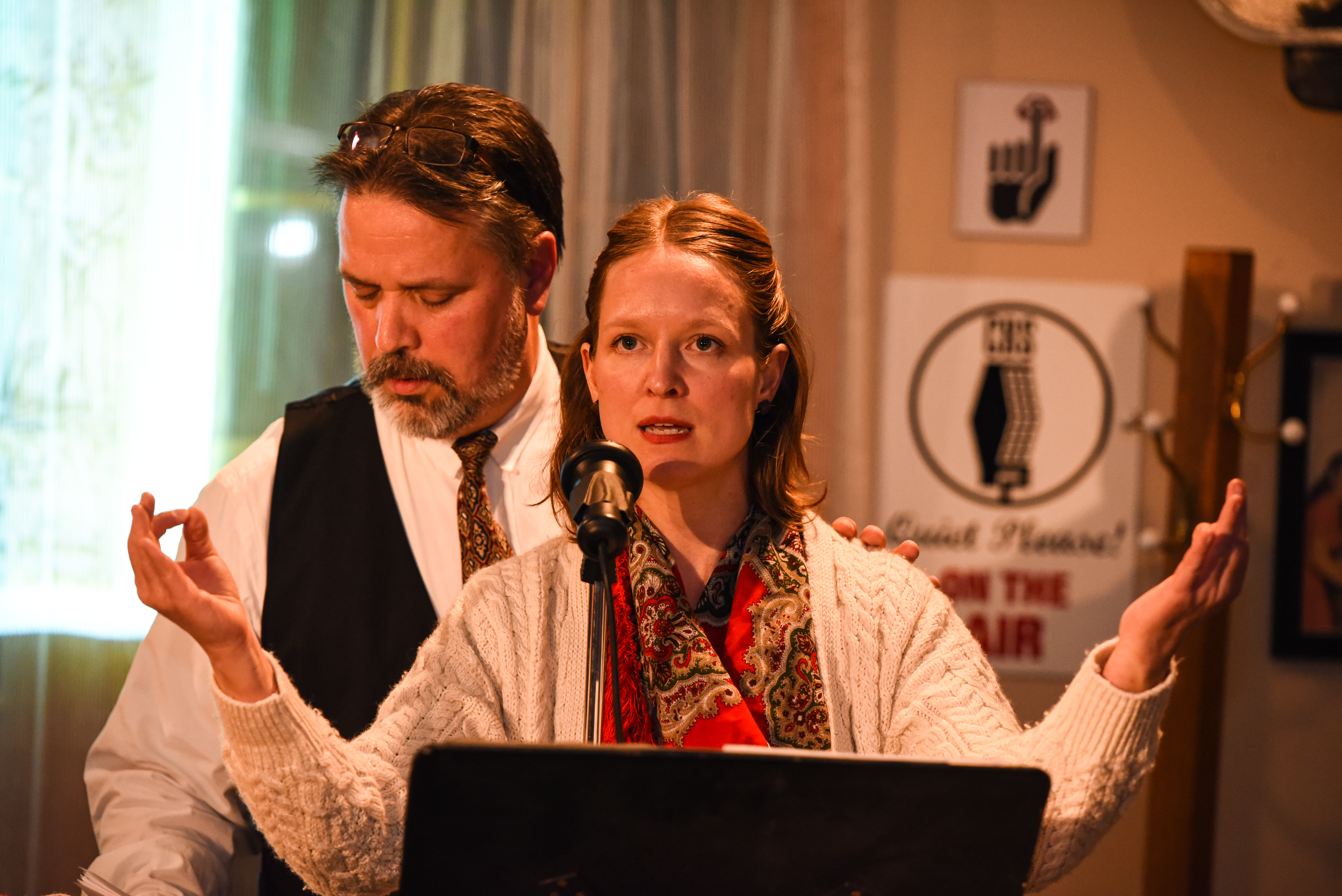 Credit: Justin Albaugh. Click for complete album.