HEIRLOOM
A Radio Play
Written & performed by Mike Geither
Free Streaming & Download
Heirloom is a non-­fiction solo performance about four generations of my extended maternal family that's based on interviews and historical records. Beginning with my mother and her siblings, and moving on to her father and grandfather's lives, it examines the social and emotional inheritance of an extended family affected by incest, alcoholism, violence and genocide. It attempts to shed understanding on how any single person may affect the generation of family members that follow him or her and to glean a greater understanding of the dynamics of incest and rape.
Run Time: 46:28
Music: "Royalty Free Army Music" by Dar Golan & "Royalty Free 70's Music" by Dar Golan
Recording (c) 2021 Playwrights Local
Heirloom (c) 2020 by Mike Geither
Produced with Radio on the Lake Theatre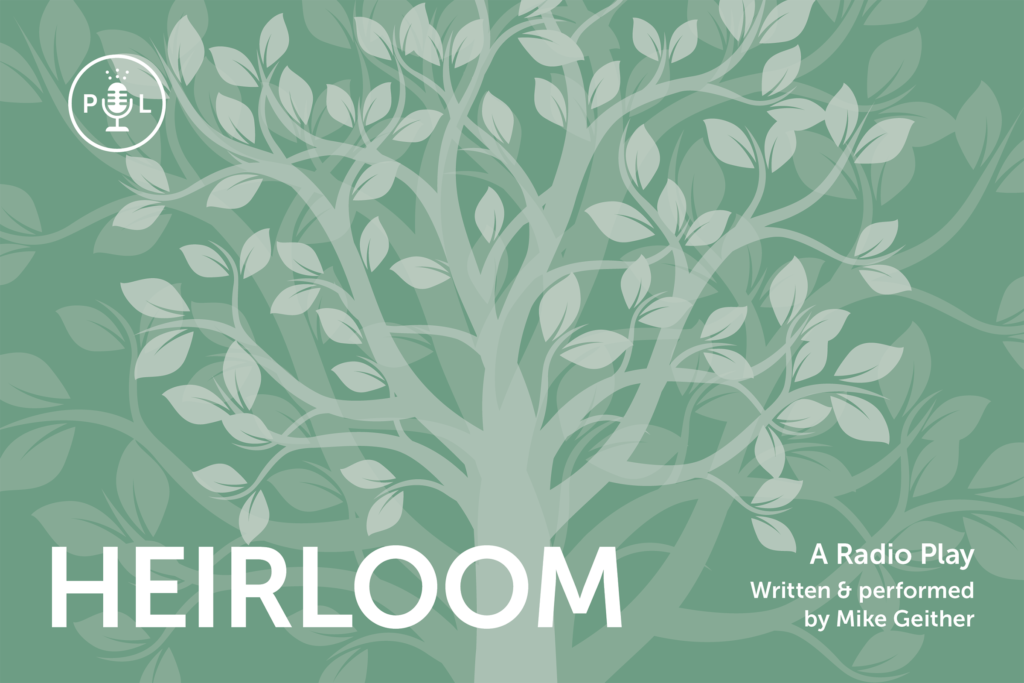 ---
Playwright / Performer
Mike Geither is a four-time Ohio Arts Council fellow whose plays and solo performances have been staged nationally and internationally. Recent works include The Body is the Best (Zuppa Theatre, Halifax, forthcoming), Heirloom (convergence-continuum, 2019), Ismene (U of Ottawa, 2017), The Events of the Warren County Fair as Observed by a Young Astronaut (Independent Production, 2017 – 2019), Objectively/Reasonable (Playwrights Local, 2016/17), Creation Myth (convergence-continuum, 2016), how small, how far away (Zuppa Theatre, Halifax, 2016), Flame Puppy (Playwrights Local, 2015), Tear It Off (Convergence Continuum, 2015), and Loki and Lucy (Talespinner, 2014). He is currently a Professor of English at Cleveland State University where he teaches in the Northeast Ohio MFA in creative writing.
Notes: I'm so happy to share Heirloom as a radio play. I was initially a little scared to bring it to an audience that I wasn't in the same room with given the kind of truth being shared. But working with sound engineer John Watts laid my fears to rest as he found ways to create a landscape that I think brings the proper mood and intention to the piece. I hope you enjoy this performance and its perspective on a difficult topic.
Special Thanks: John Watts, Karin Randoja, Dan Riordan, & Amy Schwabauer
---
Sound Effects Engineer
John Watts
---
Co-Producer
Radio on the Lake Theatre is dedicated to the preservation, creative development and educational outreach of the radio theater genre. Through performances of classic scripts, new play development, educational initiatives and outreach to visually impaired children and adults, Radio on the Lake Theatre seeks to become a guiding light for radio drama in the Northeast Ohio region and beyond.