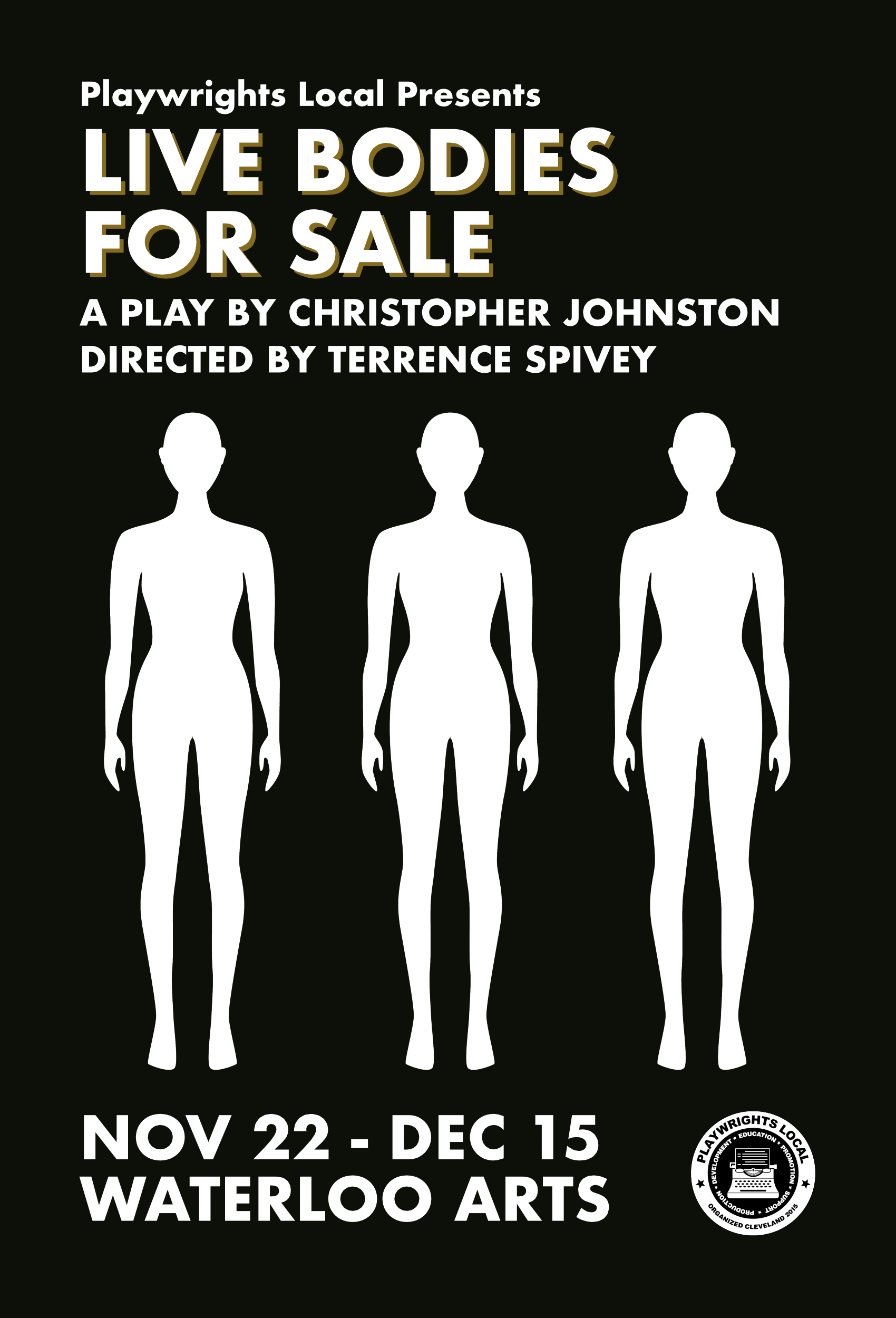 LIVE BODIES FOR SALE
Written by Christopher Johnston
Directed by Terrence Spivey
November 22 – December 15, 2019
Friday – Saturday at 7:30 pm & Sunday at 2:30 pm
Live Bodies for Sale is a new play about the human trafficking crisis occurring in Ohio in the immediate present. In immersive fashion, this documentary work explores the lives of several women from Cleveland who are recent survivors of this ongoing injustice. Live Bodies for Sale addresses how these women were forced to work as prostitutes, detailing their escapes as well as their attempts to maintain healthy lives. Based on interviews with real people, the play presents the insights of professionals who help free such victims, including Renee Jones, an urban Mother Teresa figure in Cleveland. Testimonies from Cuyahoga County task force members­­–law enforcement agents, prosecutors, and judges–­­also detail what's being done to free victims and hunt down their traffickers.
A portion of the proceeds from this production will benefit the Renee Jones Empowerment Center, a nurturing safe place for those that survived being trafficked or sexually assaulted to rebuild their lives.
---
Awards & Recognition
Best New Play by a Local Playwright / Best World Premiere in The Cleveland Area
Cleveland Critics Circle Theater Awards, 9 December 2019
Top Plays
Land of Cleve Achievement Awards, 11 December 2019
Special Recognition
Broadway World-Cleveland Professional Theater Tributes, 11 December 2019
---
Reviews
"Live Bodies For Sale isn't just an unabashed emotional roller coaster taken from heartfelt, honest testimonies by those affected by trafficking; it also warrants the attention of those beyond the theater community by its relevance, importance given the crime's rampant nature and its ability to showcase its scope of the issue, locally and worldwide."
Scene, 27 November 2019
"Compassionate, moving, and startling….an involving experience that rips at the heart and bombards the mind with questions….an absolutely must-see experience which shows the power of theater to teach and persuade."
Broadway World, 24 November 2019
Reprinted in Cool Cleveland, 25 November 2019
"Playwright Christopher Johnston pulled out his reporter's notebook and interviewed survivors of the inhumane crime of human trafficking….Their stories, told in a series of arresting monologues peppered throughout the loosely structured work, are the reason to make the trek to Waterloo Arts District to see the world-premiere Playwrights Local production."
The Plain Dealer, 26 November 2019
Annotated photo gallery by Lynn Ischay
"A captivating expose of a world and local dilemma known as human trafficking…In two fast moving hours you will witness the absolute nadir of humanity along with the most redeeming of qualities that humans are capable of…Have the courage to see this."
Mark Horning, 2 December 2019
"A stark, sensitive, shocking exposé of this dark and dangerous world…the powerful play takes viewers on a twisted tour of the emotional extremes these unwilling victims are forced to endure."
Land of Cleve, 25 October 2019
---
Press
New Play Explores Reality of Sex Trafficking; Advocates Work to End Human Trafficking
[Alternative Version with Photos and Text]
Ideastream WCPN 90.3, 19 November 2019
Live Bodies for Sale Tells True Story of 5 Cleveland-area Women Trapped and Trafficked for Sex
WOIO 19, 22 November 2019
Human Trafficking at Human Scale in Live Bodies for Sale
American Theatre, 12 November 2019
5 Must-See Productions: Fall Theater Preview 2019
The Plain Dealer, 29 September 2019
Christopher Johnston & Terrence Spivey on It's About Justice with Meryl Johnson
WRUW, 20 November 2019
Guests: Terrence Spivey & Rochelle Jones [Live Bodies for Sale]
Laura Cowan's Empowerment Hour, 25 November 2019
"Episode 58": Christopher Johnston, Author/Playwright
BZ Listening Podcast, 21 November 2019
Playwrights Local Stages Documentary Play Live Bodies for Sale by Cleveland Writer Christopher Johnston
Land of Cleve, 25 October 2019
Playwright Christopher Johnston, Director Terrence Spivey, and Detective John Morgan on Conversations in Courage with Imani Capri [Audio Recording]
WOVU 95.9 FM, 12 November 2019
---
Special Post-Show Discussions
November 22: Talkback with director Terrence Spivey and cast, moderated by Mikhaela "Kai" Love
November 23: Talkback with Kimberly Diemert, Hue Jackson Foundation
November 24: Panel discussion with Alicia Ley, Kali Jones, & Debbie Lingenhoel, RAHAB Ministries
November 29: Talkback with Rick Bell, Cuyahoga County Prosecutor's Office
November 30: Talkback with Kathleen Hackett, Rainbow Babies and Children's Hospital
December 1: Panel discussion with Teresa Stafford and Keyna Smith, Cleveland Rape Crisis Center
December 6: Talkback with Maya Simek, CWRU Health & Human Trafficking Clinic  and Equality Ohio
December 7: Talkback with Rachel Lovell, Begun Center for Violence Prevention and Education, CWRU
December 8: Post-Show Panel: Det. John Morgan and other members, Cuyahoga Regional Human Trafficking Task Force
December 13: Talkback with Dr. Lisa Ramirez, PhD,  MetroHealth and CWRU School of Medicine
December 14: Talkback with Karen Walsh, Collaborative to End Human Trafficking
December 15: Panel discussion with Renee Jones, Keesha McMillan, Sr. Cecilia Liberatore, SND, and Helene Piller, Renee Jones Empowerment Center
---
Cast
Lauren Byrd……….Rocky Encalada
Tammy Hendricks……….Arien Hodges
Detective John Morgan……….Stephen Hood
Nicole Griffin……….Hayley Johnson
Shanice Day……….Rochelle Jones
Prosecutor Rick Bell……….Joseph Milan
Martina Frantino……….Juliette Regnier
Emily Mahoney……….Emily Taylor
---
Creative Team
Costume Designer……….Inda Blatch-Geib
Stage Manager……….Kristen Boehnlein
Lighting Designer……….Marcus Dana
Carpenter……….Tom Hayes
Sound Designer……….Beau Reinker
Prop Designer ……….Lisa L. Wiley
---
Photos
Credit: Grace McC Photography. Click for complete gallery.
---
Program