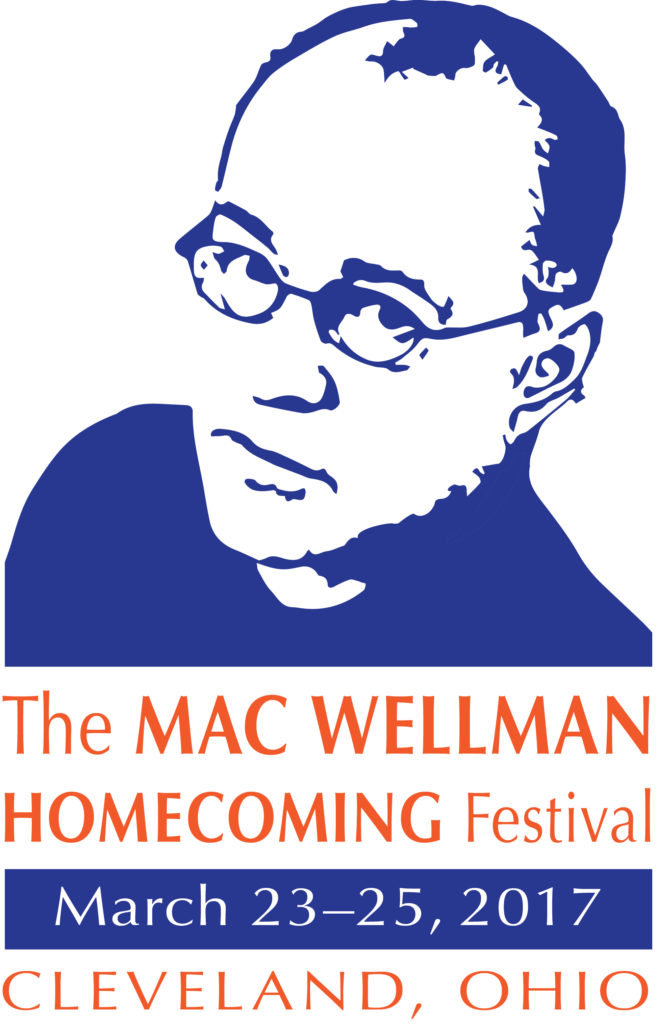 The Mac Wellman Homecoming Festival
March 23 – March 25, 2017
Drinko Hall at Cleveland State University
& Additional Locations Listed by Event
Presented by Playwrights Local
In partnership with Cleveland State University Department of English, the NEOMFA Creative Writing Program, and the Michael Schwartz Library.
With performances by Theater Ninjas, convergence-continuum, CSU Department of Theatre & Dance, Baldwin Wallace University Department of Theatre and Dance, and The Manhattan Project – Cleveland Lab, and contributions by many others.
Curated by David Todd
---
Overview
The Mac Wellman Homecoming Festival is a three-day celebration of a groundbreaking playwright from Cleveland, Ohio, one who is widely recognized as among the most influential voices of the Off-Off-Broadway era. Based for many years in New York, Wellman has authored dozens of plays, with productions spanning throughout North America as well as England, Germany, China, and Japan. In addition, he is regarded as a significant teacher of playwriting, and has impacted many of today's most important emerging writers from his position as head of the master of fine arts program at Brooklyn College. Mac Wellman is a major figure in American letters and an essential presence in the lineage of playwrights from the Cleveland area.
This is the first Cleveland-based event honoring Mac Wellman, who has been celebrated in numerous other contexts—including the "Horizontal Avalanche" Festival encompassing thirty plays in four cities—but never in his hometown.
Join us in giving long-overdue recognition to one of Northeast Ohio's most lauded playwriting products.
---
Featured Events
Productions of Bitter Bierce, Harm's Way, and The Sandalwood Box
Staged readings of Cleveland and Sincerity Forever
New short plays by local writers inspired by Wellman's exercises
Panel discussions and audience talkbacks
Receptions and a festival wrap party
An exhibit of set models, props, photos, and other production artifacts
A special Q&A with Mr. Wellman, who will be in attendance!
---
Attending
All events at Drinko Hall and the Tremont Tap House are free and open to the public. No tickets or reservations required.
Tickets for the March 25 performance of Harm's Way at The Liminus can be purchased at the convergence-continuum website.
Programs are recommended for adults and teens.
---
Additional Info
For inquiries relating to festival events, logistics, volunteering, group or school attendance, etc., email us at playwrightslocal@gmail.com.
For donations, promotions/press, and other business matters, contact Managing Director Tom Hayes at playwrightslocal@gmail.com or (216) 302-8856.
---
Venues
Drinko Hall
Music & Communication Building [MU] at Cleveland State University
2001 Euclid Avenue, Cleveland, OH 44115
CSU Visitor Parking Info & Parking Map
The Michael Schwartz Library
Rhodes Tower at Cleveland State University
2121 Euclid Avenue, Cleveland, Oh 44115
CSU Visitor Parking Info & Parking Map
The Liminis (convergence-continuum)
2438 Scranton Road, Cleveland, OH 44113
Street parking on Scranton and surrounding roads
The Tremont Tap House
2572 Scranton Road, Cleveland, OH 44113
Street parking on Scranton and surrounding roads
---
Program
---
Bitter Bierce
---
Exhibit
---
Press Pack
---