LOVE AND ECSTASY
A Radio Play by Gail Nyoka
Directed by Terrence Spivey
Free Streaming & Download
From Ireland to Barbados, to Trinidad and to England, trauma passes through five generations of women. Each one denies her truth at her own cost and suffers in her own way. Each searches for love. The narrator has reached a crisis. Like her great-great grandmother, she is a seer. It is at this point of crisis that the narrator discovers her hidden abilities. Is she descending into madness? Do her ancestors have anything to teach her? And is she able to listen?
Run Time: 36:00
Music: "Now The Silence" by Juan Sánchez & "Fireflies" by Whitesand
Recording (c) 2021 Playwrights Local
Love and Ecstasy (c) 2021 Gail Nyoka
Produced with Radio on the Lake Theatre
---
Playwright
Gail Nyoka's favourite art forms are theatre and oral storytelling. She enjoys writing and telling stories to both adult and young audiences. Her plays have been performed in theatres in Ontario, Quebec and Cleveland and she has taken her storytelling performances to Britain, the USA and Canada. Most recently, she has told stories for Young People's Theatre as part of their Storyteller Series. In 2020, her play King of the Animals opened the season at Talespinner Theatre in Cleveland. Other plays include the Chalmers Award winner Mella Mella and plays written for adults, In Plain Sight and The Waters.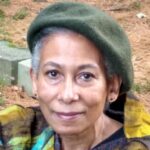 ---
Director
Former artistic director at Karamu House, Terrence Spivey is a member of The HistoryMakers, a 2018 Alan Schneider Directors Award nominee, and 2017 Best Director and 2005 Best Theatre Honcho by Cleveland Scene. He was given a proclamation in 2010 by Cleveland Mayor Frank Jackson for his artistic contributions. He garnered multiple awards at Karamu and the institution was given Repertory Company of the Year in 2013 by AUDELCO in NYC. He directed plays such as Dream on Monkey Mountain (2006 Best Production), The Blacks: A Clown Show (2008 Best Drama) and Joe Turner's Come and Gone. Since leaving Karamu: Lady Day at Emerson's Bar and Grill (2018 Chandelier Best Drama Akron), Boodycandy (2016 Top 10 Plain Dealer), and the nationally acclaimed Objectively/Reasonable: A Community Response to the Shooting of Tamir Rice, 11/22/14 at Playwrights Local. Spivey is the founding artistic director for Powerful Long Ladder.
---
Cast
Jeannine Gaskin (Violet / VyVy), a Cleveland actress and director, just finished co-directing Until the Flood by Dael Orlandersmith at Malone University with Craig Joseph. She had her directorial debut at Baldwin Wallace University in Devised Blues: Uncut & Funky and she was the assistant director at Ensemble Theatre in Lynn Nottage's Intimate Apparel. She was last seen on stage at the Belkin Black Box Theater in Ntozake Shange's For Colored Girls Who Have Considered Suicide When The Rainbow Is Enuf. She also performed at Karamu House in Day of Absence by Douglas Turner Ward and You Can't Take It With You by George Kaufman. She was seen at Convergence Continuum in her award-winning performance as Hester La Negrita in In the Blood by Suzan-Lori Parks. Film credits include a principal role in the Lifetime film With This Ring, a lead role in the 2016 48hr Film Festival Award Winning short film A Sweet Christmas and lead role in a local film Milkweed written by John Dayo-Aliya.
Cleveland native Christina Johnson (Jean) is a singer, stylist, songwriter, visual artist and poet. Since her very first stage performance in Geminina: A Space Age Cinderella as a child, the arts have become more than the performance but a catalyst for learning, peace and balance. Christina has been a part of several script development groups locally. The love of the arts keeps her connected on stage, as well as working behind the scenes of productions. Recently performing in Karamu House's social justice series Juneteenth and Freedom after Juneteenth, and several years of Black Nativity. Christina has also been seen in Pieces of Me, What If, Crystal Clear, Sisters of Selma, The Wiz (as Evillene), The Color Purple (as Sofia), Crowns, My Brother's Keeper, and Sister Act, to name a few. More to come soon from the stage as well as the recording studio.
Jill Kenderes (Susannah) is an actor/costume designer in the Cleveland area. Past performances include Olivia in Twelfth Night, Blanche DuBois in A Streetcar Named Desire, Sylvia in Sylvia, Freida Joubert in Statements After an Arrest Under the Immorality Act, and Margaret in Silent Sky. She is honored to take part in this beautiful piece.
Sharron McPherson-Foxx (Narrator) is a singer and actor who has also directed several productions including The Lynching of Effie Childs, The Row, and Joe Turner's Come and Gone. She is a Karamu Award winner for her ensemble work in Constant Star at Dobama Theater. Her acting credits include Sweet Charity, Doubt, Tommy, A Raisin in The Sun, and Once On This Island. She has appeared as an extra in the films Against the Ropes and Captain America: The Winter Soldier. Sharron can currently be seen in the Toronto Black Film Festival award winning film short Resurrection of The Last Black Man 08:46, directed by Terrence Spivey. She is co-founder of Maiden Voyage Theatre Ensemble and currently works as executive and production assistant with Powerful Long Ladder Theater. She is also a sought-after background vocalist and featured in her solo project, Foxx & Co., AfterThought and the NuSoul Band and Wish You Were Here, the premier Pink Floyd Tribute Band.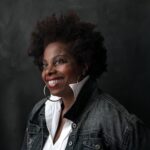 ---
Sound Effects Engineer
Victoria Watts
---
Co-Producer
Radio on the Lake Theatre is dedicated to the preservation, creative development and educational outreach of the radio theater genre. Through performances of classic scripts, new play development, educational initiatives and outreach to visually impaired children and adults, Radio on the Lake Theatre seeks to become a guiding light for radio drama in the Northeast Ohio region and beyond.