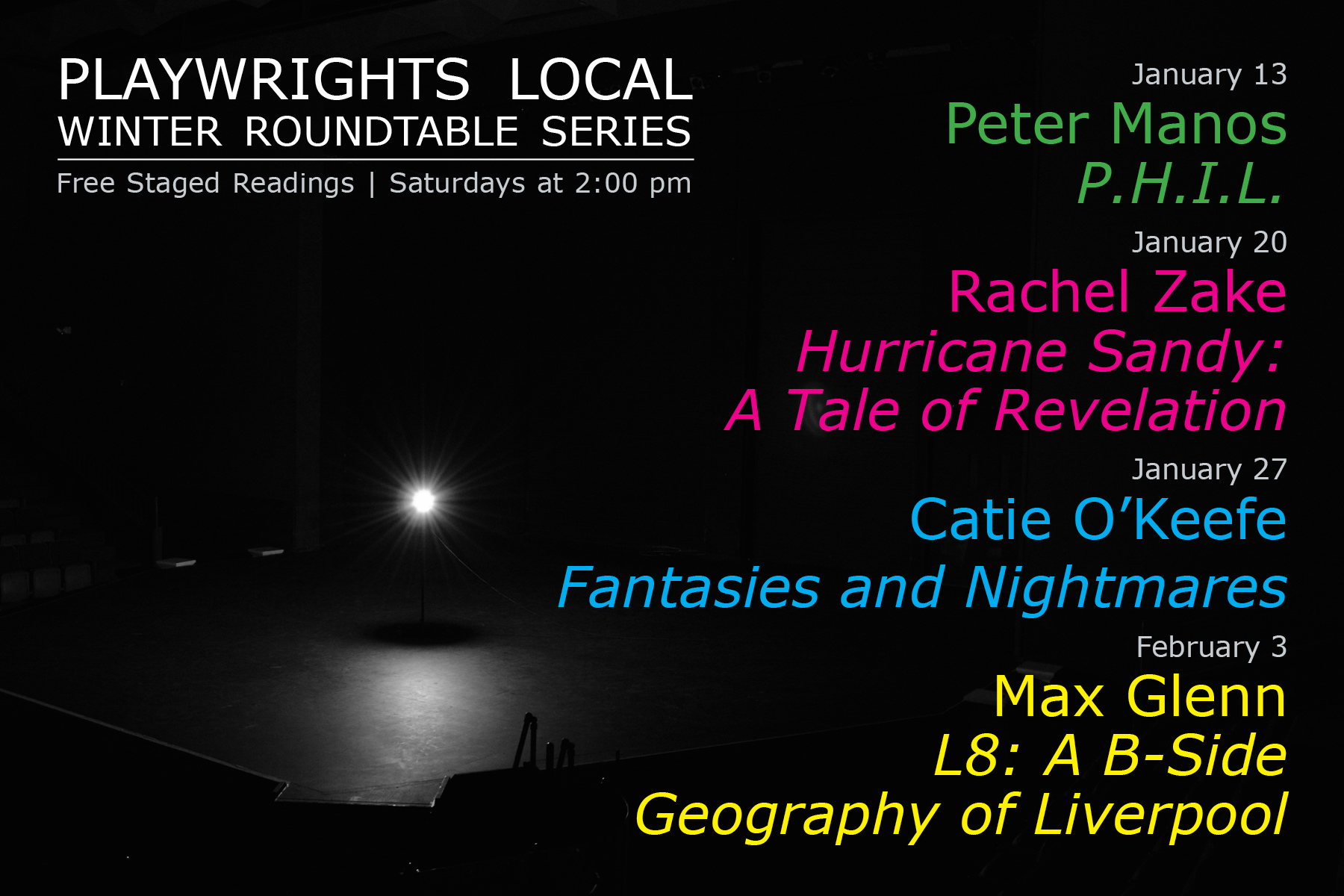 January/February 2018
Staged Readings of New Plays | Free | Tickets or Reservations Not Required
---
January 13  |  2:00 pm
P.H.I.L. (Partnering Helpmate In Life)
Written & directed by Peter Manos
P.H.I.L. anticipates the logical extreme of corporate America's goal to give people everything they want, for continually escalating fees, of course. Rob and Sadie are a couple whose marriage is on the rocks until Rob, when drunk, orders a replica of himself as a gift to Sadie. Delivered in a box the size of a refrigerator or coffin, "P.H.I.L. (Partnering Helpmate In Life)" quickly becomes as indispensable as a cell phone, but not necessarily as controllable. Sadie gets her revenge by ordering "P.H.I.L.L.I.S. (*Partnering Helpmate In Life Lovely Is She)," which is patterned after herself, much to Rob's dismay. Other complications such as an automatic upgrage–"B.O.P.H.I.L.* (*Baby Of Partnering Helpmate In Life)"–arrive. P.H.I.L. is a darkly comic comment on our culture of pursuing instant gratification without the need for other humans in our lives.
---
January 20 | 2:00 pm
Hurricane Sandy: A Tale of Revelation
Written by Rachel Zake
Directed by Erik Andrews
Hurricane Sandy: A Tale of Revelation tells the story of seven people living in an apartment building during one of the harshest hurricanes to hit the upper East Coast. Because the storm has barricaded them into the Rockaways, New York, they must rely on one another to make it through the potentially deadly night. What begins as apprehension and prejudice takes a turn when one member of the group acts out on religious fanaticism in an attempt to save them all.
---
January 27 | 2:00 pm
Fantasies and Nightmares
Written by Catie O'Keefe
Directed by Jessica R Swank
In 2006, Facebook was young, uncomplicated, and looking for friends — leading Ralph to remember his high school crush on Sally. But perhaps that's not all he eventually recalls. Inspired by a dream, Ralph finds Sally online and soon his old feelings are reignited. As a way of seeing her again, he plans a wine and cheese party, announcing it with a Facebook event. As Ralph drifts into this dangerous territory, his wife Deb finds solace by caring for a bird with a broken wing. Deb is holding out hope that the impending soiree will jump start things at home, especially given their son's recent absence. Ralph tries to shut out reality in favor of what a new fate might hold for him, but is jolted through fantasy and nightmare. Meanwhile, those around him seem to be plotting escapes of their own.
---
February 3 | 2:00 pm
L8: A B-Side Geography of Liverpool
Written by Max Glenn
Directed by Pamela Decker
A former business city on hard times. A history of police and racial tension. A collective of communities that are distinctly different but share one name: Liverpool. L8: A B-Side Geography of Liverpool is a geographical story of the British Empire's second city. Take a tour via this theatrical experience led by Leo, a youth worker and maestro for this one-hour event.